The annual gathering is significant because it's the "life blood of the culture of our company," said Corey Anthony, senior vice president-human resources and chief diversity officer.
AT&T (No. 3 on the DiversityInc Top 50 Companies list) reached a milestone this fall with its 10th annual Employee Resource Group (ERG) conference in Dallas. The company is committed more than ever to expanding its 12 ERGs, which grew in membership in 2018.
There's been recent debate about the effectiveness of ERGs, some firms even choosing to turn the other way. But there's no question that ERGs are essential to the work culture AT&T, along with other Top 10 Companies, where, on average, at least 42 percent of employees belong to at least one resource group.
AT&T has ranked on DiversityInc's Top Companies for ERGs list every year since inception in 2014. In 2018, the company ranked No. 2 on the list.
Inclusive Culture
Corey Anthony, senior vice president-human resources and chief diversity officer at AT&T, explained to DiversityInc a key reason why the company's ERGs, continue to thrive — they've always been inclusive.
"In regard to the companies I've spoken with who've tried to stop using ERGs or change the model, one of the key differences I've seen between them and us is the genesis of their ERGs, and how the ERGs operated within their company," Anthony explained.
"A key differentiator: we have never operated our ERGs at AT&T in a way that was exclusive."
"Because our ERGs are very inclusive, including cross-collaborative efforts, they are a vehicle that brings employees closer to each other, and into the communities where we work and live."
Shane Nelson, vice president, editor of DiversityInc Best Practices commented: "Think about the volume of people that represents. The company has more than 200,000 employees in the U.S. AT&T has one of the largest number of employees in ERGs of any company that competed in the DiversityInc Top 50 survey. The company's ERGs have remarkable engagement and inclusiveness."
Anthony gave the example of Women of AT&T, one of the company's largest ERGs. He said both active membership and leadership in the group is "extremely diverse," including men.
The inclusive philosophy mirrors the theme of the 2018 conference, "AT&T Is All Of Us." About 2,000 employees from across the country, and abroad, participated in the conference, which is an environment where employees are encouraged to "be very candid, be very open."
Anthony said that each year when registration is opened spaces fill up quickly. This year was no different.
"Within 11 minutes of opening registration, it was completely sold out," he said.
Employees pay for their own travel and lodging, yet, "every year, the biggest challenge I have to deal with is all of the people who can't get in," Anthony explained.
ERGs Help Build Relationships
ERGs played a vital role in the shaping of Anthony's career at AT&T. When he joined the company in 1995 as a manager, he was in Kansas City and he said two Black senior employees "took me under their wings." They were in the process of starting an ERG chapter and included Anthony.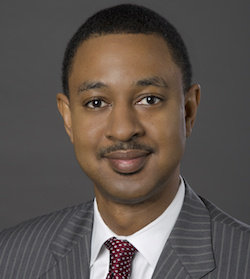 Corey Anthony
"I had this really deep exposure to ERGs," he said. "I had an opportunity to help build that chapter. And I've been involved ever since. For me it's been key in my learnings. Although I'm Black, I've not only worked with the Black ERGs, I've worked with all of our ERGs. They've helped expose me to different cultures and different experiences."

Anthony said AT&T's 10th ERG conference is significant because the gathering is the "life blood of the culture of our company, especially as it relates to diversity and inclusion and how we engage and interact with each other."
That comprises the ability to interact with all senior leadership including AT&T Chairman, Chief executive Officer and President Randall L. Stephenson.

Stephenson attends the conference each year and gives a keynote speech. This year, Anthony said he discussed company values, as "we had just released those values enterprise-wide about a week prior to the conference."
Eight value-led directives at AT&T:
Live true.
Think big.
Pursue excellence.
Inspire imagination.
Be there.
Stand for equality.
Embrace freedom.
Make a difference.
Stephenson made it clear why those values "are applicable to every single one of the employees in this company, including those at WarnerMedia, which used to be Time Warner," he said.
During the conference, Anthony led a panel discussion featuring the CEOs of AT&T's four companies.
"The partnerships are very strong, and they're all aligned on the value and importance of diversity and inclusion in our company," he said.
Anthony added that AT&T's ERG conference also helps to "truly humanize our leaders" and employees "get a chance to see a different side, often times, of a leader that they may not have seen previously."